ROV'S IN 2001
This is the Deep Sea Systems MiniMax r.o.v. which was to carry out part of the Academy of Applied Science research programme in 2001. Four lights and two tv cameras can be seen on the front of the vehicle.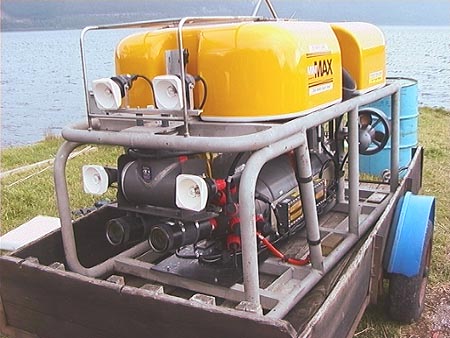 Copyright
© 2001 Dick Raynor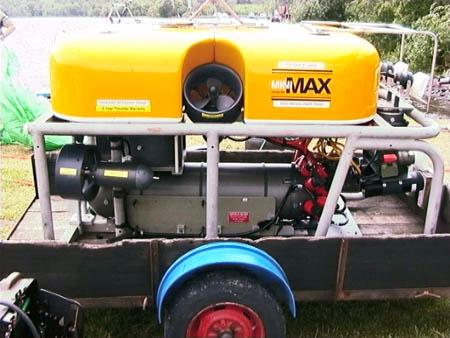 Copyright © 2001 Dick Raynor
Starboard side view shows a side mounted thruster at the top, for lateral and vertical movements, and one of the horizontal thrusters at the left, which is used for forwards, backwards and turning movements. More information about the research is on the AAS web site http://www.monsterhunters.org/ .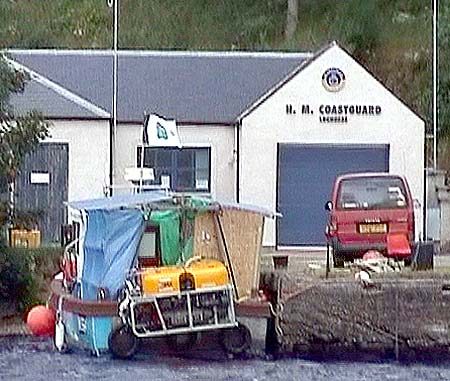 Copyright © 2001 Dick Raynor
Sorry about the quality of this one - it shows the vehicle "ready for action" suspended over the stern of a hired fishing boat. The wooden shed to its right protected the control equipment, and the blue plastic sheeting protected the operators from the weather. The building behind is, as the label states, the Loch Ness Boathouse of H.M.Coastguard, and houses the Coastguard Fast Rescue Boat. It also accommodates the village Fire Engine!


---